After reporting/registration to the University, staff/students will receive a set of OnePass (CWEM) account including
Login ID: (1)Staff / Student ID ; (2)Computing ID
Password: OnePass (CWEM) Password
Email Address / Office 365 Login ID: (staff)

This email address is being protected from spambots. You need JavaScript enabled to view it.

or (student)

This email address is being protected from spambots. You need JavaScript enabled to view it.
This account can be used for a number of IT services including MyCUHK, Office 365, Email, WiFi and VPN.
Available to
Staff & students
Service Charge and Application
Free; no application required
Service Availability
24 X 7
Getting Started
Account Collection
You can collect your Computing Account Information slip (CAI) which shows your OnePass (CWEM) account information:
New Student
You will receive a 6-digit V-code to according to
Please enter Student Computing Accounts Collection System (SCACS) with your V-code to obtain the CAI for at most 5 times online. Each obtainment will generate a new OnePass password. You should save it to avoid repeated obtainment.
New Staff

There are several ways to collect your CAI
Visit CU Link Card Centre (Room 804, WMY Building).
Visit Service Desk on 1/F, Pi Chiu Building or 6/F, WMY Building during office hours.
Call ITSC hotline on 3943 8845
Use of Account
Your OnePass (CWEM) account is widely used on different IT services:
| | | |
| --- | --- | --- |
| Service | Staff | Student |
| CUHK OnePass – Single login and logout across MyCUHK and other online systems | ✔ | ✔ |
| @Link Email | | ✔ |
| Office 365 Mail | ✔ | |
| CUHK Online Applications with Central Authentication Directory Service | * | * |
| CUHK VPN | ✔ | ✔ |
| On Campus WiFi | ✔ | |
| Registration for Off Campus WiFi - CUHK Wi-Fi Hotspot Partnership Program | ✔ | ✔ |
| Office 365 | ✔ | ✔ |
* Subject to your right to use a specific online applications
Change / Forgot Password
Change Password
Change your OnePass (CWEM) password here
Forgot Password
If you forgot your OnePass (CWEM) password, use either method below:
Regular Password Expiry
You need to change your OnePass (CWEM) Password at least annually as a security measure. Please visit
OnePass (CWEM) Password Policy
for details.
An email reminder will be sent to you before your account expiry. To change password, please
Visit https://cai.itsc.cuhk.edu.hk/chgpwd OR
Click "Change Current / Expired Password" on OnePass or CUHK Login Page OR
Click "Change OnePass (CWEM) Password" in "MyPage" after logging into MyCUHK
When Your OnePass (CWEM) Password Expires
You can still change your password
You will be prompted with "Incorrect ID / Password" while logging into IT services that do not involve OnePass / CUHK Login page
You will be reminded about the password expiry while logging into OnePass / CUHK Login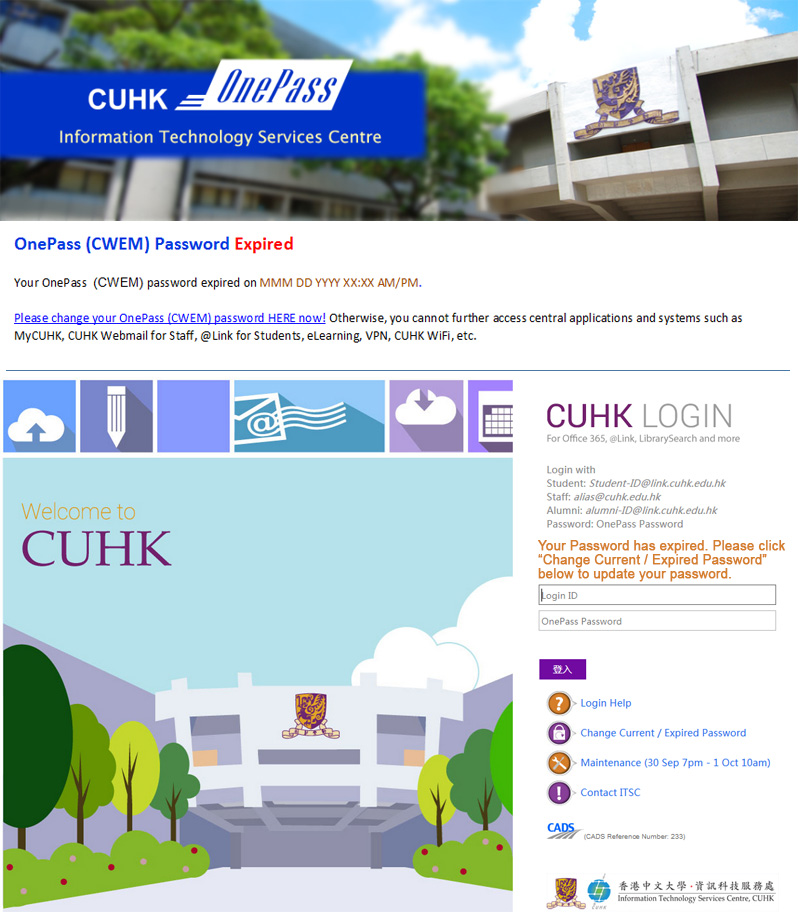 Account Deletion / Extension
Your OnePass (CWEM) account will be deleted after your employment end date / graduation date. Please archive and backup all your files and emails, and remove email forwarding before your account deletion.
Account Extension
To extend your account, please
For staff: Complete the online application form at least 3 weeks before a staff employment end date
For students: extend the study period through study programme office before the expected graduation date
FAQ
Q1: In my Windows device, my Office applications keep prompting for login (such as after changing my OnePass). How to resolve it?
A1: You need to clear the Windows Credential Manager, please follow the steps below:
Close all Office applications (including Outlook, Word, Skype for Business, OneDrive etc).
Click Start > Control Panel > User Accounts > Credential Manager > Windows Credential.
Select each item whose type is MicrosoftOffice16_Data:ADAL:<GUID>, and then press Delete. Repeat this step to delete all items for your account.
Close the Credential Manager window. Restart your PC.
Restart Office Application and it will redirect you to CUHK Login page. Follow the screen instruction to enter your email address as your login ID and OnePass password. Contact ITSC if you have any further enquiries.