A. Service Launch Plan
Q1: What are the benefits of using Office 365?

All university staff can now enjoy,
OneDrive (5TB) - a large cloud disk storage accessible everywhere with internet,
Mail (50GB) - a large mailbox accessible everywhere with internet
Office ProPlus - the latest Office Suite for home use on at most 5 PC / Macs, 5 tablets and 5 smartphones
Office Online - a simple online version of Office Suite,
SharePoint Online for file sharing and collaboration!
Q2: Will University emails move to Office 365 Mail?
The University supports the move to cloud services, such as using Office 365 for enterprise content management and emails, which bring convenience and good user experience. Office 365 will replace the CUHK Webmail (mailserv) as University's central email service. Departments can consider gradually move their emails to Office 365.
Q3: When could our department move our email service to Office 365?
With the help of department IT or department's email support, departments can now move your email service to Office 365.
Q4: Can we keep using CUHK Webmail (Mailserv)?
CUHK Webmail, both in terms of hardware and software, has been used for long. To provide a better email service, ITSC will retire CUHK Webmail by 31 Dec 2017. Office 365 will replace CUHK Webmail as University's central email service.
Q5: Is Office 365 Mail a secure cloud solution?
Office 365 comes with built-in security protection. You can learn more at Microsoft Trust Center (https://www.microsoft.com/en-us/trustcenter/cloudservices/office365). More security features, such as multiple-factor authentication and right management solution, will be introduced later.
Q6: When can I use Office 365 Mail?
You can switch to use Office 365 Mail now.
If you are using Exchange email, it is recommended to move to Office 365 Mail in department basis. Please check with your email support staff for schedule and details.
For staff who are not using Exchange, they can opt-in to use Office 365 Mail via the coordination of your department IT. You can also opt-in to use Office 365 by yourself starting from Apr 2017.
Q7: When will CUHK Webmail (Mailserv) be decommissioned?
It is planned to terminate CUHK Webmail (Mailserv) by 31 Dec 2017.
B. Licenses and Installation - Office 365 ProPlus
Q1: How many copies of Microsoft Office could staff enjoy for home use?

Under Microsoft Campus Agreement, you could have
Work at Home Use Rights – 1 copy for school-related purposes
Office 365 ProPlus – up to 5 devices
Q2: What's the difference between Office 2016 from Work at Home Use Right and from Office 365 ProPlus?
| | | |
| --- | --- | --- |
| | Work at home Use Right | Office 365 ProPlus |
| License | Subscription under Microsoft Campus License | Subscription under Microsoft Campus License |
| Office Applications Available | Office Pro Plus for PC and Office Standard for Mac including Word, Excel, and PowerPoint | The most up-to-date office applications. |
| No. of Installation | A single PC or Mac | Up to 5 PCs/Macs + 5 tablets + 5 smart phones |
| Installation Method | Windows Installer (MSI) Method | "Click-to-Run" |
| Others | Reference | It also provides OneDrive and other collaborative tools e.g. SharePoint |
Q3: How to get started to install Office 365 ProPlus?

To use Office 365 service, you have to first log in CUHK Office 365 Portal http://www.cuhk.edu.hk/o365 with This email address is being protected from spambots. You need JavaScript enabled to view it. and OnePass password. After a successful login, you can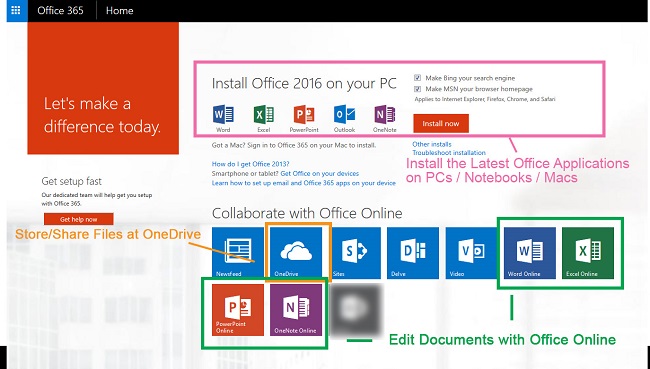 If you choose to install office applications onto your devices, please avoid installing two versions of office in the same device. Otherwise, you may run into issues. Check Microsoft support for details.
Q4: When I leave the University, could I continue using Office 365 ProPlus?

Your Office 365 accounts will be disabled after your leave. You can no longer use any service in Office 365 Portal. In addition, Office 365 ProPlus installed in your devices will become read-and-print available only in 30 days. You must backup all your files and emails before leaving the University.
C. Compatibility Issues - Office 365 ProPlus
Q1: Our office PCs use Office 2010 according to University Software Standards. Is there a need to update it to Office 2013 or newer?

The University Software Standards should be adopted in the University, and such standards should be mandatory for administrative units while advisory for academic departments/unit. ITSC will update the standard software list as necessary to cater for technological changes, compatibility issue and new requirements.

Refer to the current software standards, you can choose to use Office 2010, 2013 or 2016 if you are an administrative unit. Office 2010 is being reviewed and may be removed from August 2016 University Software Standards.
Q2: Is there any compatibility issue if I use Office 2016 to edit a file but one opens it with Office 2010 / 2013?

Office 2016 can open files created by Office 2010/2013 in compatibility mode. Under compatibility mode, you can still edit the documents fully with enhanced features of Office 2016 disabled. And you could save your file as an earlier version of Office for others to edit.
Q3: At departments, any recommended version of Microsoft Office for staff use?

You can check the "Office Suite" category of current University Software standard at here. If you just buy a new computer with latest hardware that fulfils the requirements of Windows 10, you are strongly recommended installing Windows 10 plus Office 2016 for better performance and compatibility with latest and future technology.
D. Accounts, Login & Profile
Q1: My password cannot log into Office 365. How to get back / change / reset my password?

For most of the staff, the password to log into Office 365 is OnePass (CWEM) Password. You can check if your password has expired by logging into OnePass. You can also change your OnePass (CWEM) password here.

However, for the staff who is using departmental MS Exchange email, you should use your MS Exchange password instead. To change your MS Exchange password, you should go to change your OnePass (CWEM) password here. You will then be able to use OnePass (CWEM) password to log into MS Exchange, OnePass and even Office 365.

If you still fail to log in with the above password, please contact us at 3843 8845 or ITSC Service Desk
Q2: How to change my personal profile at Office 365 (including my display name, office no. and address)?


You can update your Office 365 Display Name, Title, Telephone Number and Office address through a self-service page at: https://cloud.itsc.cuhk.edu.hk/adprofileupdate/login.aspx. This submission is for updating your personal profile in Office 365 and MS Exchange (Outlook) address book only. If you need a similar update in University Online Contact Directory (OCD), please contact your department OCD administrator.
Some of personal info in Office 365 cannot be changed and they are:
Last name: It is extracted from University Personnel System
Department Name: It is extracted from University Personnel System. Should it need to be updated due to secondment, the request should be made via department IT coordinator by writing to ITSC Service Desk (http://servicedesk.itsc.cuhk.edu.hk).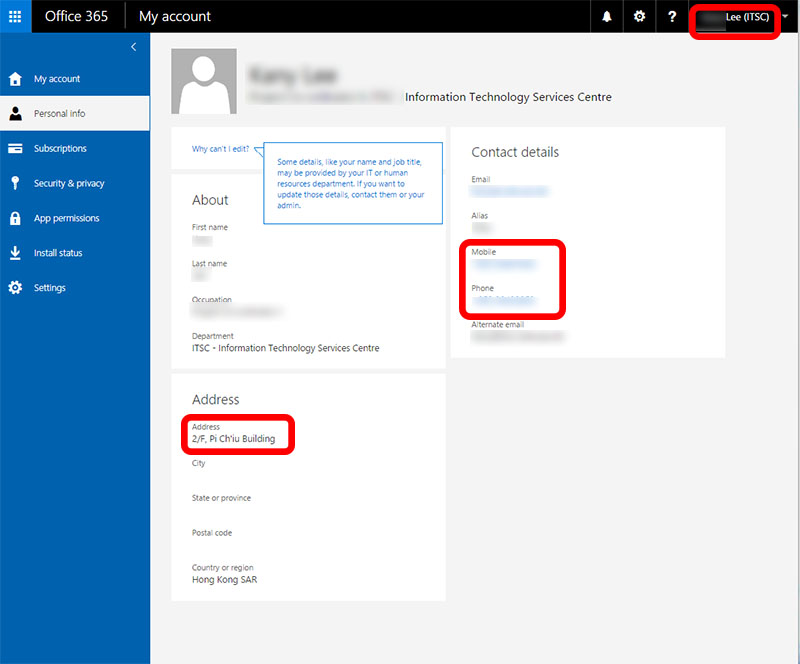 Q3: When all staff move to University AD, what should our department observe in creating Exchange account (before migrating to Office 365 Mail) for new staff?

The management, including provisioning and de-provisioning, of all staff and student AD accounts has been centrally managed by ITSC starting since 5 Apr 2016. You can create mailbox for new staff by assigning access right to their AD account. The account will be available in the CUHKAD root domain when the staff reports duty.
Q4: Where to get the list of department code for reference?
Please visit http://www.itsc.cuhk.edu.hk/images/content/staff_it/o365/O365-Dept-Code.pdf.
E. OneDrive for Business
Q1: What is OneDrive for Business Useful for?

OneDrive for Business is a good place to store individual working files, similar to your home drive in your department file server. Coming with a strong security protection, OneDrive for Business provides you with more advanced and modern features that home drive may be missing. It has good mobile support and a tight integration with desktop and other Office 365 services, such as SharePoint Online.

If you need added protection, say, for files with personal data, please encrypt and password protect your files before storing at OneDrive. This practice is the same when you work on other drives. Check here for further suggestion.

For documents that multiple people need to work on, SharePoint Online team sites are great choice. The University is setting up SharePoint Online team sites for official committees work and will extend the service to faculty/department/college/units in time.
Q2: What should I note while using OneDrive for Business? Is it safe to put things on cloud?

Please observe the best practices on using Cloud Storage Services.
Q3: Is anybody reading my files? Are the files I upload to OneDrive for Business private?

The files you upload to OneDrive are private to you by default. You can share files with your colleagues by the "Share" button. Try to choose if he / she could view or even edit your file. Check out Part G of the user guide for details.
Q4: How to protect my files to be viewed / edited by a specific CUHK colleague?

Please choose "Require Sign-in" while sharing your files. Then, your colleague's Office 365 account will be the key to open your file.
Q5: I am doing some promotion. Can I share my file to "Everyone"?

Don't type "everyone" while sharing your files in Office 365! The "everyone" here means anyone with Office 365 account in the world. There is also a recipient group called "everyone except external users", which means CUHK staff. However, we don't encourage you to use this function. In case, you click "Send an email invitation", many CUHK colleagues will receive your email notification then. Instead, you should use "Get a link" and share your files with all CUHK staff and even students. This generates a web link and you can put it into mass mails, banners or other promotion channels. Check out Part I of the user guide for details.